Annual Meeting of Members October 12, 2021
Early Voting at Canoochee EMC Offices – October 4-8, 2021
Per Canoochee EMC Bylaws Section 2.05.01, an early voting period for the position of Canoochee EMC Board Director District 2 will be begin October 4 and conclude on October 8.  Voting and registration will take place that week at Canoochee's Reidsville, Hinesville, and Pembroke offices during normal business hours.  All early registrants will receive a bill credit of $20.
Current Director Lavanda Lynn was nominated to run by the CEMC Nominating Committee.  He is being challenged by Dusty James, who qualified by petition.  Voting is open to all Canoochee EMC members.  Any question regarding voting eligibility will be decided upon by the Canoochee EMC Elections and Credentials Committee.  Marvin E. "Ed" Bradley, Jr. (District 5) and Robert E. Dasher (District 8) run unopposed.
The Annual Meeting of Members will be held October 12 at the Tattnall-Evans Campground on Tuesday, October 12, 2021.  Registration will begin at 12 noon and ends promptly at 2pm.  The Business meeting will begin as soon as registration closes.  Attendees of the Annual meeting will receive a set of knives.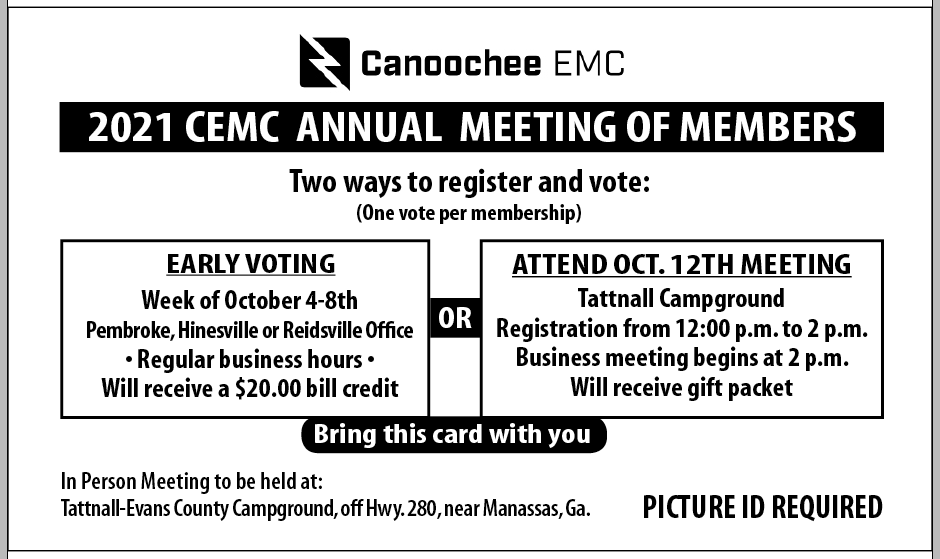 Frequently Asked Questions about Voting for Annual Meeting
Can I register for my ailing mother that could not make it? No, only if you are an immediate member of the family, are 18 years of age, and are living in the household.
Can I register over the phone?  No, only in person.
I have covid, how can I register? 
            Registration is only allowed in-person.
            Anyone with COVID should remain in quarantine.
Can I register for my neighbors?  No
Can I register and not vote?  Yes, but at early voting you will be asked to place your ballot in an envelope and still drop it in the ballot box.
I have multiple accounts in my name, can I register for each account?  No, registration and voting are limited to 1 per membership.
I have multiple accounts in my name, will I receive $20 credit on each account?  No, registration and bill credit are limited to 1 per membership.
I have a business and a personal account under different member numbers.  Can I register for both?      Yes, registration is only limited to 1 per member number.
The power is in my landlord's name, can I still register?  No.
I live with my parent, and I am over 18 years old and the parent is not able to come to the meeting or early vote, can I vote for them?  Yes, with ID.
The power is not in my name, but I live at the address.  Can I register for our household?  No, not if you are not an immediate family member.
Can I still get my knives on the 12th, and will my name be put it in the hat for drawings, even if I have early voted? 
            You must attend the in-person meeting on October 12th.